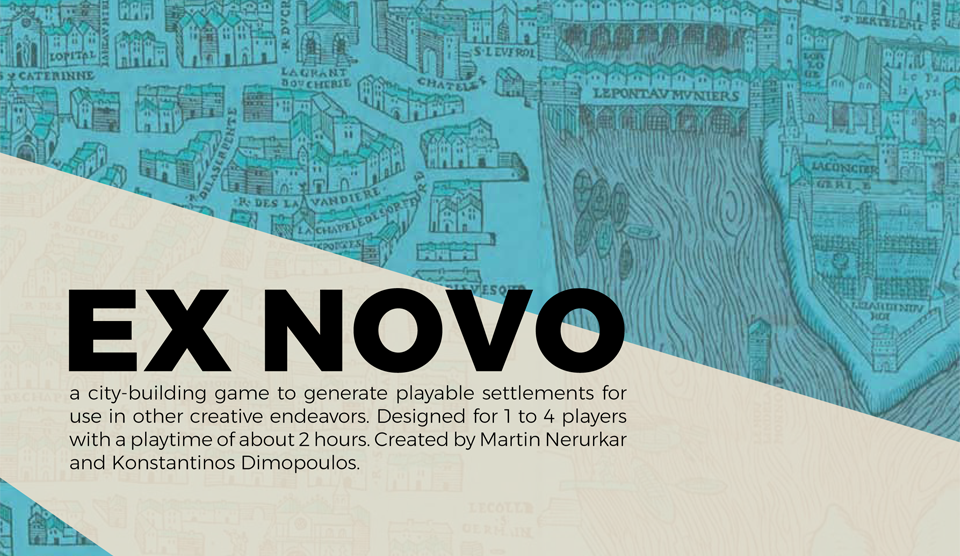 Ex Novo
Ex Novo has been out in the wild for about a month now and we've had the great pleasure of seeing people play the game and build their own cities, just like this one.
And we've listened to feedback collected from you and from our own playtests and put some more time and love into the game. And now the first update is ready, bring Ex Novo to version 1.0! You can grab it now!
So what is new?
Grid was changed to regions

One of the issues we encountered with the grid is that people were taking it too literally
We had more interesting experiences with more strange and varied segmentation of the map
So we changed the concept to regions, which also feels like something more real in the world than the grid

Cleaned up some rules

Clarified the wording of number of rules bits
We removed some mentions to abandoned concepts (such as the unaffiliated faction)
Adding a resource can now also add a landmark to exploit the resource

Improved the event tables

Made sure that every event has some leading questions to inspire
Removed all "do nothing" options from events
Added more resource and faction affecting event actions
Replaced a few events that felt odd or duplicate and added new ones to replace them

Changed the appendix section on time

Reiterated that time is nebulous and vague by design
Changed the table so that event phases are dependent on the age of the city
And shortened the sections a bit

Added a turn summary page

If you were new to the game you had to spend a lot of time flipping between the tables and the phase description
To help with that we added a one-page summary of all the turns at the end of the book
And yeah, that should cover everything. Let us know how you like the improvements, and if you make a city with the game, don't forget to share it!
All the best,
Martin and Konstantinos