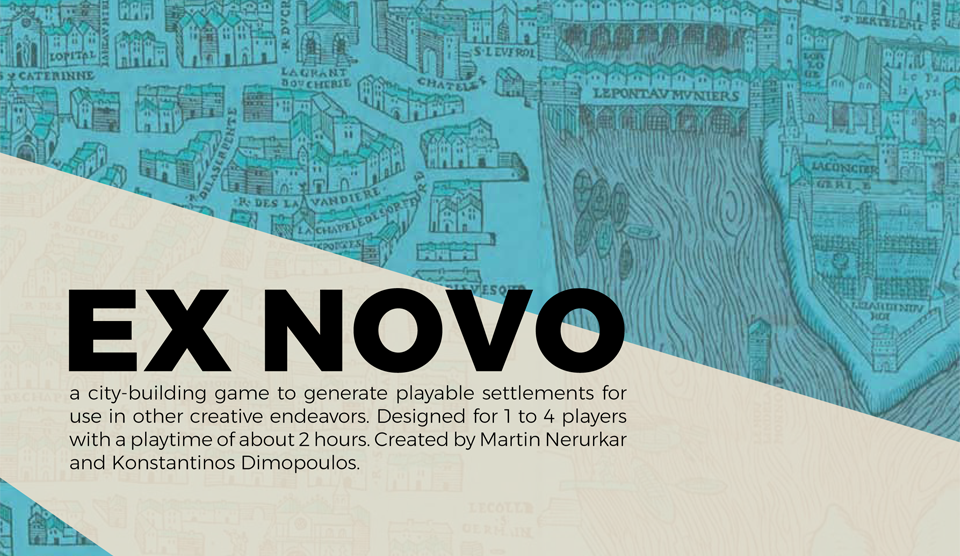 Ex Novo
Ex Novo is a playable city-generator that helps you construct, and populate fictional villages, towns, and cities. This physical game can be played solo or with up to 3 friends. Playtime ranges from 1 to 3 hours.

Meet with your friends, and collaboratively draw the map of your city as you explore the history of its founding, and the forces, factions, and events that shape its development.
Ex Novo is both a fun game, and a tool that helps you build memorable settlements ready for further creative use; the cities generated can for example be used in any sort of narrative endeavors or as settings for pen and paper role-playing game adventures.
Please share your cities with us using the hashtag #ExNovoCity.
Created by Martin Nerurkar and Konstantinos Dimopoulos.

Playing Ex Novo
You (and up to three friends) take on the role of the guardian spirit of a freshly founded settlement. Its founding, in fact, conjured you into existence, and imbued you with purpose: to witness the settlement grow, shepherd its development, inspire its factions, and remember its stories.
During play you will make sense of the events happening as you roll dice, plan and draw on a collaborative map of your settlement, and influence its changing shape. You will flesh out a living place complete with landmarks, districts, resources, and people, and in the end create your own, unique, fictional town. A town with a true sense of history and place.
Sequence of Play
Play begins with a brief discussion phase, where each player shares their assumptions and expectations. The age and size of the city-to-be are also determined, and with them the expected duration of the game.
Next up is the founding phase. Taking turns, players define such fundamentals features of the settlement as the surrounding terrain or its original founding purpose. Every feature is described by the acting player, who will then have to draw it on the map. Following Ex Novo's initial sequence of turns, players will have an interesting starting situation in their hands.
The following phase, the development phase, is the core of the game. Each turn in this phase provides with an event brought forth by the roll of three dice. These events need to be interpreted, and sketched by the active player. During the development phase the settlement will grow, change or even shrink; factions will rise and fall, populations will move, old neighborhoods will decline, and mighty edifices will be built. This is where the exciting history of your city will be played out, where its structure will evolve, and where the game map will get both bigger and richer.
The final phase is the topping out phase. These few quick turns are all that's needed to wrap up the development of the city, and tie up any loose ends. Dominant landmarks might even get named as your settlement's finishing touches are applied.
Finally your creation will be ready for you to admire, illustrate, show off or use as a jumping off point for something entirely new: a new RPG campaign, a video game setting, a novel fantasy or a even short story.
Third Party License
Ex Novo is a creative game, and we want to foster this creativity. So, we put together a third party license that will allow anyone to make new stuff for or based on Ex Novo, and either publish it for free or sell it. Find out everything you need about the Ex Novo Third Party License on our website.

Other Sharkbomb Games
| | |
| --- | --- |
| Status | Released |
| Category | Physical game |
| Release date | Apr 30, 2020 |
| Rating | |
| Authors | Sharkbomb Studios, Martin Nerurkar, Konstantinos D. |
| Genre | Role Playing |
| Tags | City Builder, Drawing, Generator, poc-made, Procedural Generation, Singleplayer, storytelling, Tabletop, tool |
| Average session | A few hours |
| Languages | English |
| Multiplayer | Local multiplayer |
Purchase
In order to download this game you must purchase it at or above the minimum price of $10 USD. You will get access to the following files: