Gave it a test on a little village and I like the difference! The main thing I like about it is that power can blob and shift freely no matter the size of the settlement. Previously, I felt like with small villages, I was just constantly shifting one or two population tokens between factions.

A few things I was unclear on while playtesting the new power rules:

1. Is there an intended maximum power pool like there is with the population pool, or do we simply produce tokens from a nebulous pool as instructed? Are we to instead relocate tokens from the city to a faction?

2. We place the initial two tokens on our first resource. Does this mean the initial faction card placement takes one of these, or do we add a new one from the pool? My brain wants to interpret the tokens on resources as "Control of this resource is worth X power to the faction who controls it."

3. If so, what happens when there's only one token left on the resource but another faction gains power? Do they take it from a different faction, take a new token from pool, or just not gain power in order to leave at least 1 token in the city?

5. Is there an intended interpretation for the majority of power tokens being in the city? Does this imply that this amount of power is spread among the citizens? That the factions fight over it and that power is constantly in flux? Is it assumed that the faction with the majority of power controls all the rest of the power not allocated to another faction? Specifically, what do tokens left on resources symbolize?

I have a feeling 5 is supposed to be up to individual player interpretation, but I figured I'd ask just in case. (The rules lawyer in me must know...!)

Presuming a great deal, I came up with this. Perhaps the placement of the power tokens (the purple ones) will help you spot any unintended interpretations I made of the rules?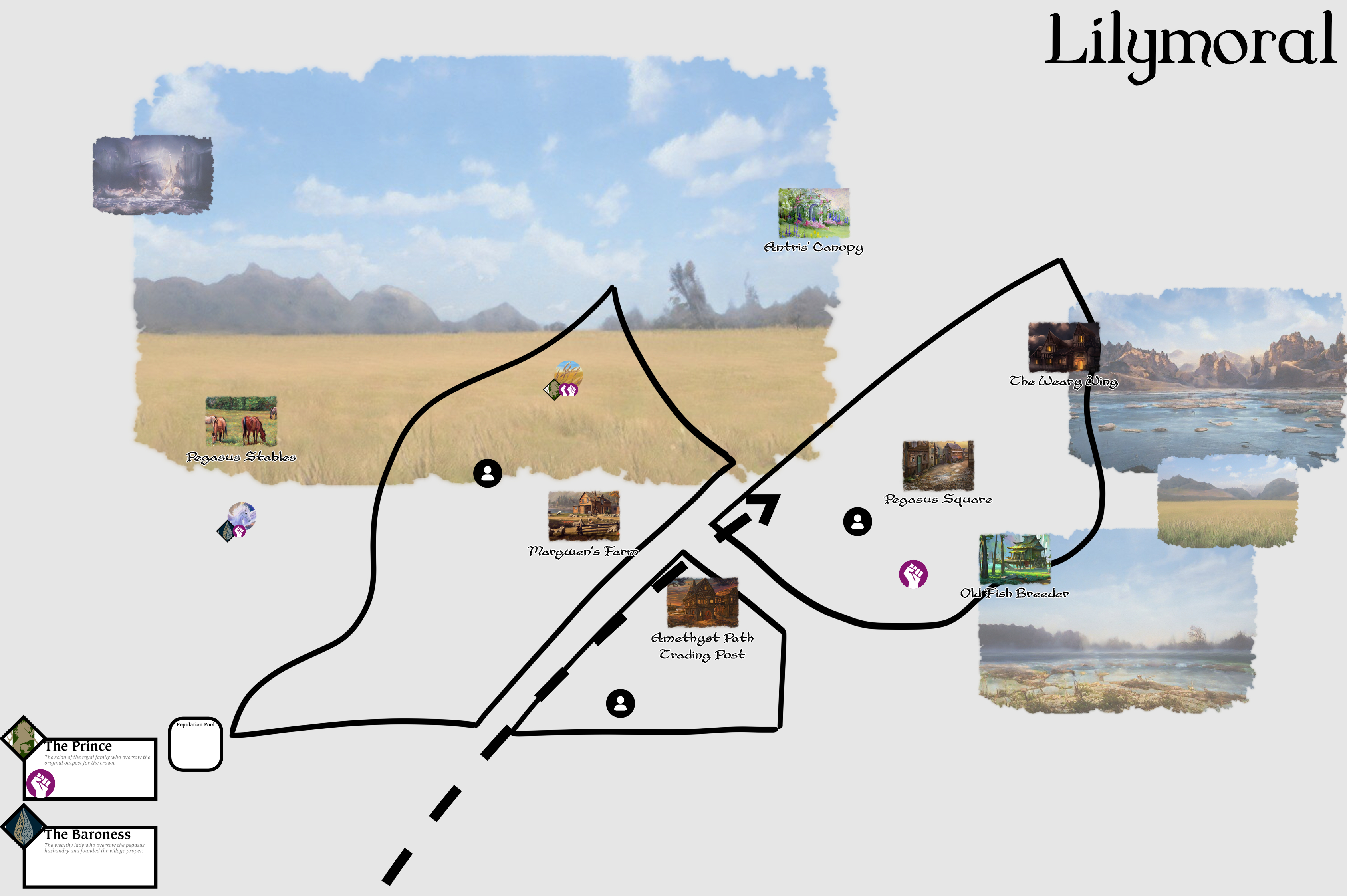 She's an elven pegasus ranch originally set up as an outpost meant to breed steeds for a war effort further off. Came out kinda peculiar for an elven settlement, but the important part is the way power tokens ended up getting placed. :)