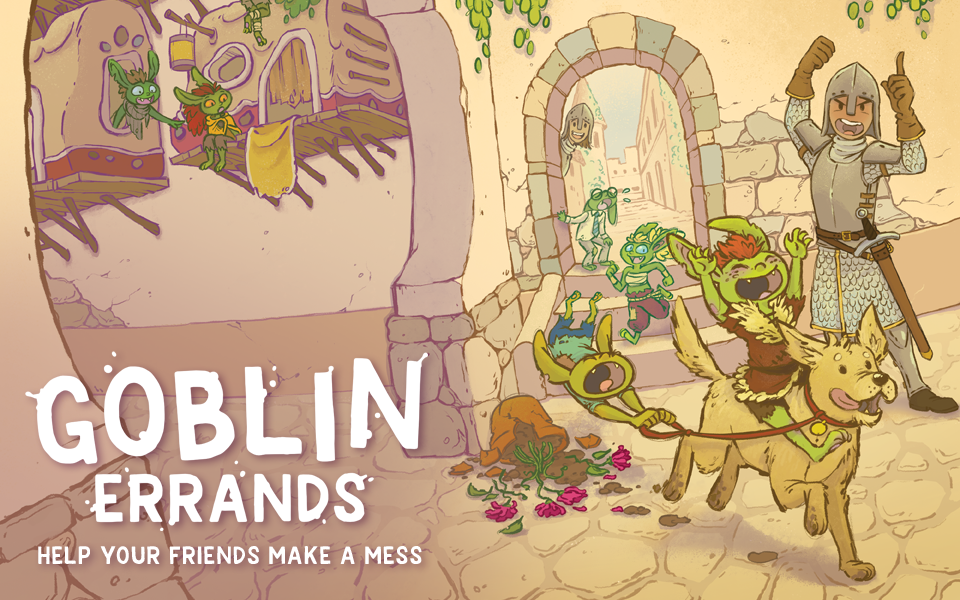 Goblin Errands
Goblin Errands is a no-prep RPG for 2 to 4 goblins and one Tall Person. Together you'll go on comical (mis)adventures trying to complete seemingly mundane tasks as you struggle with a world not designed for you.
You've just joined a new family of goblins and you are determined to prove yourself useful. Clearly, the best way to do so is by running errands for the community: Buying vegetables at the market or procuring the services of a local wizard to get your wise leader unstuck from his chamber pot.
Unfortunately as a goblin you live in a world made for folk much bigger and stronger than you. And on top of that you have only a single Braincell to work with - and one that you have to share with your fellow goblins. Even otherwise ordinary everyday tasks turn into hilarious challenges.
What's in the Book
52 page rulebook
Random generator for your goblin community
Random generator for quick errands
8 different goblin playbooks
Included digital extras
GM rules reference sheet

Goblin community sheet
Goblin generator sheet
Playbook layout files
PHYSICAL EDITION
The successful Goblin Errands Kickstarter has made a physical print edition a reality! If you are interested you might want to head over to the Goblin Errands press kit to take a look at some of the online retailers that stock it!
Purchase
In order to download this game you must purchase it at or above the minimum price of $12 USD. You will get access to the following files:
Goblin Errands - Digital Extras
1 MB
Exclusive content
Support this game at or above a special price point to receive something exclusive.
Underdog Copies
Are you a low-income or marginalized person interested in Goblin Errands? Thanks to some generous backers of the Goblin Errands Kickstarter we raised money for a total of 85 community copies for anyone who cannot afford Goblin Errands. Just click below to claim a copy and attach it to your account.
Comments
Log in with itch.io to leave a comment.
In the extras, the feats are not named
I know. It's just a copy of a playbook so the feats are not the point of it. The point is to provide people with a playbook layout so they can make their own. The idea is to replace the feats with ones you come up with. It's not an extra playbook.

I haven't playtested this one yet, but the whole idea is so adorable. I fell in love with it on first sight. For me these goblins feel a bit like clowns in a good way (in their heart - like really trying to accomplish things but living in a difficult world that's not made for them).

If you were wondering about ableism: I found a note in the book about that, and the whole game isn't meant to be ableistic. It's not only but also about loving people as they are, as I see it. I hope I'll be able to play this soon!

Me and my friends are really excited to try this out! Plus, I love my shoddy goblin sketch, so I recommend the service.
That seems to be a very fun and original role playing game! Can't wait to read the rules and give it a try! Cheers guys.
thanks! Happy to hear it. Let me know if you've got any feedback!